Finally, 2020 is behind us.  Looking back, we see the impact that Covid 19 has had on businesses and their staff.  It enhanced a more responsive and agile supply chain. Procurement teams shifted RFP focus from price to risk. There is more emphasis on inventory efficiencies, availability, and tier two suppliers.  We have been challenged and forced to conduct our business in different ways while still achieving our revenue goals. For example, working from home, virtual meetings, managing staff, etc.
How did the pandemic affect your team?  Were they able to deliver essential services while maintaining good customer relationships?  
 What have we Learned?
We have learned the importance and benefits of having talented and ambitious supply chain employees.  Some adapted and reacted quickly to a new way of working while continuing to bring value to their clients through innovation and creative thinking. They remained motivated and even challenged as they looked for different ways to continue to perform.   They stayed at the top of their game! But then there were those that were not as flexible or innovative.  Those that lost their ambition and desire to work.
Over the past several months, I heard remarks about the under-performance of some supply chain staff.  Their inflexibility to pivot, work differently and remain a productive business partner with their internal and external clients. Their inability to solve the day-to-day logistics problems (for example).  RFP projects that were put on hold forced procurement and sourcing staff to sit idle. These are just a couple of examples. There were so many challenges, that some staff were not able to cope with the changes.  They had no ambition or motivation to spring into action.  Or is it possible that they lacked proper guidance and mentorship from their leaders?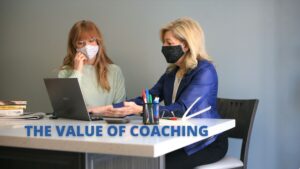 What can you do?
Invest in your staff's professional development through supply chain coaching. Set them up to succeed. It will enable them to grow, lead, and deliver more value to their business clients and the organization. The benefits will be rewarding for them and for you.  Unlock their talent and find out their key strengths and weaknesses.
How I can help
I partner with businesses to help unlock talent and get more from their supply chain staff. I help clients create positive changes, see new possibilities, and define the steps to take to determine their long/short term goals in supply chain. Whether it is to accelerate their careers in the field or to achieve personal goals, each program will be designed specifically to help them bring awareness to the skills they can enhance and areas of improvement.  I have been coaching for several years and see that many companies either lack leadership resources, time, or both, resulting in their employees not getting the professional development support they deserve.  Assisting them to determine their strengths and weaknesses within supply chain will bring many benefits to the employee as well as their employer. It will reveal a positive company reputation which attracts and retains top talent in the field.
BENEFTS
Improves employee engagement, productivity, self-confidence, and motivation.
Employees will feel valued.
Increases innovation resulting in higher company profits.
Reduces employee turnover rate.
Increases employee satisfaction.
Diversity coaching/mentoring improving a more inclusive workplace.
PROGRAM OPTIONS
Customized Corporate
There is no "one size fits all" coaching program. I offer a customized approach developing a program that will align specifically with your department and/or company goals and objectives or, to your employees' supply chain career growth.  I collaborate with HR, department leaders and senior leaders to help me develop the right program for your staff.
One on One (3 Session Program Package)
This program is designed to meet the needs of the individual and consists of 3 unique coaching sessions.  At each session, I help the client determine their goals and define the steps to help them achieve their goal.
Group Coaching and Speaking Program
As a certified coach, I will speak to your business group and provide them the tools and techniques to determine their goals and achieve them.  i.e.       Monthly or quarterly on-line workshops.
For more information on supply chain coaching, please contact me!
"Invest in your staff's professional development through supply chain coaching. Set them up to succeed. It will enable them to grow, lead, and deliver more value to their business clients and the organization. The benefits will be rewarding for them and for you.  Unlock their talent and find out their key strengths and weaknesses. "